If you are undertaking kitchen renovations or remodelling, you will notice that there are a number of lighting options available. One of these is LED (Light Emitting Diode) lighting, which due to their energy efficiency many are choosing over halogen, incandescent and fluorescent lighting.
LED globes can last up to 10,000 hours, which equates to over ten years! LED lighting has many benefits including a low energy consumption, small size, durability and reliability, whilst still outputting the same amount of light as traditional lights.
Using LED lighting in your new kitchen design will give you appropriate task lighting for preparing food and reading cookbooks.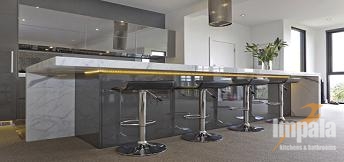 In this kitchen, Impala Kitchens & Bathrooms used LED lights under cabinets and behind glass shelves to provide the client with ample work light. LED lighting is also available in tapes or strips to provide ambient lighting and wow factor to your kitchen cabinets.