Bathroom designs can gain a completely new "look" with the colour scheme chosen. Neutral colours, such as white, cream and beige are popular, as they will suit any bathroom design, tend to "date" less and please more tastes (an imperative consideration if renovating to sell). They are generally seen as "safe" colours, as opposed to the more colourful and bold choices, which can brighten up a bathroom.
The image below shows a neutral, crisp colour scheme. White ceramic tiles on the walls and stone coloured porcelain tiles on the floor.
As well as considering colours for your bathroom renovation or remodel, textures are also important. Modern tiles are available in an impressive range of textures, either with patterns embossed or etched. Using different type tiles for a feature, for example, glass tiles on a predominantly ceramic wall can also be a fantastic highlight. The image below shows stacked stone being used as a feature.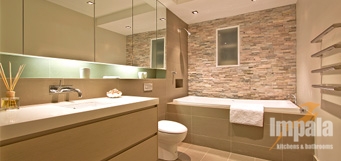 Consider bringing colour and interest into your bathroom design by tiling a coloured feature wall as displayed in the image below.