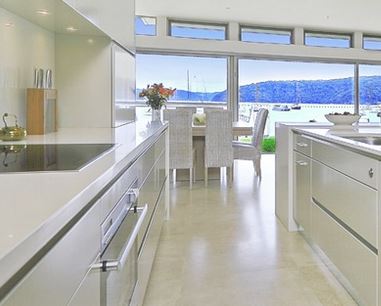 Custom made kitchens
Custom made kitchens are made to order, to suit and fit the space you have to work with.
The big advantage in having your kitchen custom made is that you are not restricted as to cabinet size, height, depth and width. You can have a custom made kitchen made specifically to suit your room and to accommodate your particular needs and desired appliances.
Standard modular kitchen
If you are going for a standard modular kitchen, you will need to be mindful that it may not fit exactly within the configuration or size of the room you have to work with. In this case you may need, for instance, some filler pieces to cover gaps.
Height: There are no varying heights in a standard kitchen. The wall cabinets, kickboards and bench tops all come in a standard height that you're restricted to. The standard height of bench tops tends to be 900 mm.
Width: Standard cabinet widths offer a little more variation. Typically, modular cabinets come in standard widths of 600 mm, 900 mm and 1200 mm, whereas in a custom kitchen you can get exactly the size that fills the space, so you can put what you want where you want it.
Depth: In a standard modular kitchen, the depth of a cabinet's storage space – in the pantries and under benches – is also standard. Again, with a custom design you can make the cupboards deeper for more storage space or less deep to allow more open floor space and easier direct access to the contents of each cupboard.
Fridge space
Because they can be quite deep, fridges often protrude out from the other kitchen furniture in a standard modular kitchen. In a custom made kitchen, you can even have your fridge concealed in a cabinet. With some fridge brands (Sub Zero is one) you can have the fridge flush, so that it doesn't protrude from the cabinets.
Abutting pieces
With all standard sizes (or even when custom designing), a thing to be careful of is the placement of modules where they can't work together properly; for instance, a drawer that cannot open while a door is open, or vice versa. Or, generally, where the configuration doesn't allow the modular pieces to function together in a practical sense.
To avoid this problem, remember when measuring up to see what will fit where. Don't just think in terms of lengths and widths. Also consider the space for allowing things to open and close, and in what direction.
Overall, the main difference between a custom or modular kitchen is the flexibility in dimensions and finishes that can be achieved.
If you'd like to know more about what might fit in your kitchen space and how to best achieve the perfect combination for what you need, talk to us at Impala Kitchens. We'll be sure to give you some great ideas to work with.