Induction and gas cooktops are both great options and both have their pros and cons. The trick to deciding is to take all aspects into consideration and often it simply comes down to personal choice.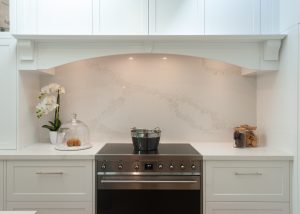 Two beautiful traditional Impala kitchens, one with induction, the other gas.
Induction Cooking:
Pros:
– Induction is now considered the fastest cooking method
– Some have the option of 'boosters' or 'keep warm' options. With some induction cooktops, you can control zones individually and set auto 'heat-ups' and timers
– Induction may have more options for heat control. A 'simmer' temperature is easily controlled with induction, where at times that gas flame cannot be reduced low enough on the gas burner
– Inductions seek surface makes it easy to clean
– Larger range of models, designs and configurations
– Considered safer to use as there is no exposed flame
Cons:
– You will require specific cookware for induction
– Tend to be more expensive to purchase and install than gas, you may need to install new circuity.
– Reliant on power, if there is a blackout you are unable to use it.
You can still achieve a traditional look and enjoy the modern benefit of induction.
As our client did with this dreamy SMEG oven.
Lovely clean lines.
Our stone mason did an amazing job, induction cooktop completely flush with the stone benchtop.
Gas Cooking:
Pros:
– Gas provides that wonderful visual feedback when you raise and lower the flame
– If you love cooking stir-fries many gas models come with specially designed burner woks and chefs still prefer a wok burner for cooking
– General cheaper to purchase and install then induction
– Not restricted by power failure, you can still cook during a blackout
Cons:
– The cast iron trivets on gas cooktops can be bulky, less sleek and more difficult to clean.
– Fewer options with regards to models and design
– Safety concerns with the exposed flame
– Has more restrictions with benchtops, splashbacks and finishes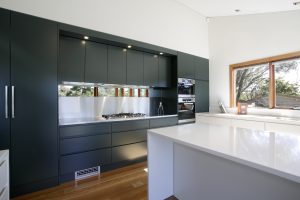 Gas cooktop part of this modern Impala kitchen.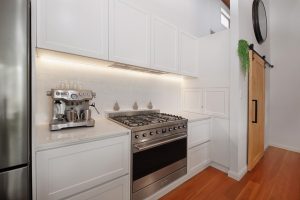 Our client loved her statement SMEG oven with gas cooktop.
Best of both worlds!
You can purchase a cooktop with a combination of both.
Induction zones with a side wok burner- the best of both elements. You can always have the safety of an induction cooktop and that wonderful flame for your stir-fries. Plus, you can still cook if there is a power cut.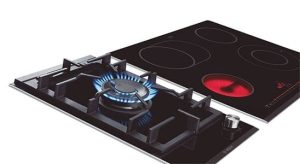 Bosch Gas Induction. Best of both worlds!