Whether you're working with a professional or tackling the process on your own, designing a kitchen can involve a lot of decisions. Kitchen corners are one area where it's easy to get stuck. You may want to save money with a standard cabinet. You may want swinging pull-outs to eliminate bending and reaching. Or you may not have the space for either option. If you're struggling to make up your mind or are unsure of where to start, don't stress. These 13 solutions will help you pick out the most efficient and functional option for your kitchen.
1. Blind corner
Considered a standard solution for kitchen corners, a blind cabinet allows homeowners to access the void created when two walls of cabinetry meet at a corner. This space is accessible via a single cabinet door, similar to many coveted butler's pantries.
The downside, of course, is that while you may be able to access this space, it isn't always easy to do it. You often have to get down on your hands and knees and reach into the back of your cabinet to find what you need. Because of this, these spaces often become junk bins that are left untouched for years.
If you're on a tight budget though, blind corners can knock a few numbers off your bill. They're less expensive than customised corner options such as lazy Susans and swinging pull-outs.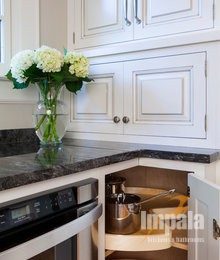 2. Lazy Susan
This classic storage solution lets you place dishes, strainers, pots and pans on turnstiles and access them with a twirl of the finger. It doesn't completely eliminate bending and reaching, but it does make the space easier to access and, as a result, more functional. The biggest drawback is that storage space can get tight.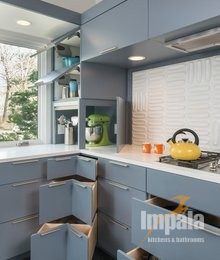 3. Drawers
Two, three- and even four-drawer corner cabinets offer quick access to your stored items, along with plenty of storage space (especially in pieces that have deep drawers). Their accordion-like appearance can also add an interesting dynamic to your cabinetry's aesthetics.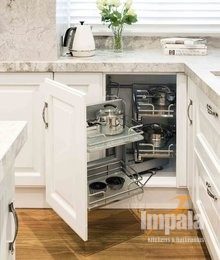 4. Swinging pull-outs
Another way to store bulky pots and pans, swinging pull-outs outperform lazy Susans by bringing your cooking utensils out of your cabinet and right in front of you, significantly reducing the amount of bending and reaching.
Your storage space will still be limited, but the accessibility and convenience may be well worth the sacrifice. These are considered upgrades and cost more than a standard blind cabinet.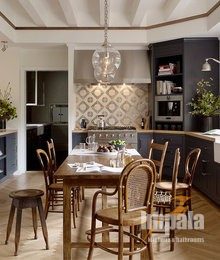 5. Diagonal corner cabinet
These cabinets can be prefabricated or custom-built. You can even insert a standard cabinet box at a 45-degree angle if there isn't a prefabricated cabinet available.
Diagonal corner cabinets are a nice visual break and can add dimension to your kitchen. They often utilise the entire corner space, but as with blind corner cabinets, you will have to reach back into the recesses of the cabinet to find your dishware.

6. Sink base
It may not maximise space, but a corner sink base just might be worth it if there's a view involved. The extra workspace behind your sink can house your finest decor (and show it off to the neighbours too).
Do be aware, however, that adding a standard-size sink in a corner often creates unused counter space behind it, which can be tough to reach when cleaning.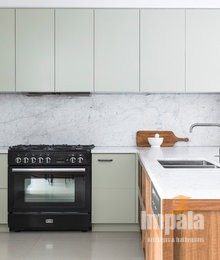 7. Dead space
Maximising space is always preferred to wasting space, of course. However, leaving dead space may be the best option for your kitchen, especially if you're renovating an older home with a dysfunctional layout
Sometimes you won't be able to fit in a prefabricated corner cabinet. Allowing some dead space in tricky corners can also be your best bet if you're trying to save money on your cabinets or are flipping a low-value home.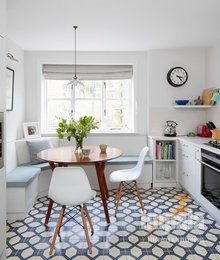 8. Sitting area
If you're willing to give up some storage and counter space, a built-in banquette is a creative way to make your cabinetry feel cosy and inviting, as well as adding seating space. Your cushions, pillows and linens can complement your kitchen's decorative scheme too.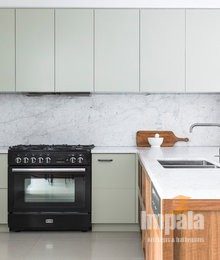 9. Built-in pantry
If you want to keep your cooking ingredients within reach, you can insert a custom-built corner pantry into your kitchen design. This transitional kitchen has a pantry placed at an equal distance between the oven and sink, which can speed up food-preparation time for some homeowners. The major sacrifices here are counter space and affordability.
10. Standard cabinet
You don't always have to install a corner cabinet. Sometimes you won't have the space to fit one in (as in the kitchen above). Or you may simply want an open cabinet design. This is where a standard cabinet can be the best choice for your layout and needs.
Providing you don't have an overly deep counter, it won't present any accessibility problems, though some homeowners may miss the extra storage space that corner cabinets provide.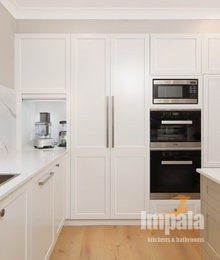 11. Appliance garage
Storing a blender, mixer and toaster on your countertop can be an unpleasant sight. At the same time, these appliances can be heavier than other types of cookware, so storing them below your countertop can be a pain for your back.
Appliance garages solve both of these problems. You can park and hide appliances behind a lift door and slide them out when you're ready to whip up dinner. You'll give up counter space, but it will help keep your remaining space clutter-free.
12. Easy-reach cabinet
These cabinets have a double door front that opens like an accordion, displaying both sides of your cupboard at once. They take full advantage of available corner space. You won't have to dig deep into a blind cabinet while you're standing on a step stool.
Naturally, easy-reach cabinets are more expensive than standard blind cabinets. Make sure you budget for this type of upgrade.
13. Open shelving
Wrapping shelves around your wall corner will give you access to the entire space and cut costs in the process. Open shelving is also a minimalist feature that works well in modern, contemporary, industrial and farmhouse designs. The major con is that it takes extra work to keep the shelves clean and organised
Tell us
Have you found a creative solution for dealing with awkward kitchen corners? Tell us all about it in the Comments, like this story, save the images for inspiration, and join the conversation.
Credit: https://www.houzz.com.au/magazine/13-ways-to-rework-an-awkward-kitchen-corner-stsetivw-vs~132547710