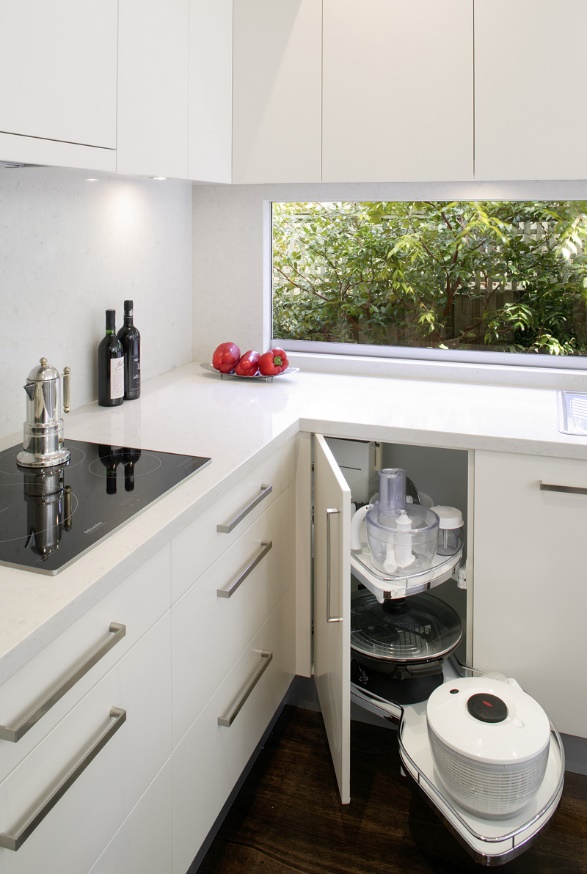 What are some ideas for kitchen corner cupboards?
Fortunately, the days of having to crawl and bend at odd angles to get to things in kitchen cupboards and corners are well and truly  ending! New design options are opening spaces and redefining the nature of storage systems as we know them.
Standard door
The basic starting point for a corner cabinet in a kitchen is to use a standard opening door, known as a "blind corner cabinet". But as  the name suggests, the opening door can create space issues in that corner.
Bi-fold door
A development that most are familiar with is the bi-fold door. This type of door opens out towards the corner of the cabinetry with an  adjacent door panel hinged onto it, so it can be opened along with the first door. This allows easier access to the shelves in that whole  corner space.
Corner drawers
Kitchen corner drawers are a newer development. This useful design in drawers opens like standard drawers but is made to fit into a corner space.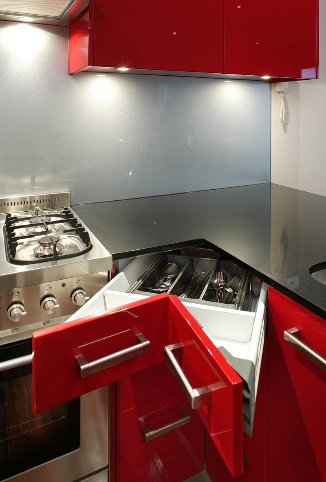 Le Mons corner
A product that is proving very popular is the Le Mons corner unit. It has shelves that glide out and have an internal rotation specifically designed for the corner shape. Thanks to this kind of design there is no need any more to bend down and dig through shelves or drawers, as you can just slide the unit out and see what's there in front of you.
Two room access
Here's another clever use of corner space. If you have a breakfast bar, pantry or cabinet placed in a corner in the right configuration, you may be able to include another door to gain access from the other side of the unit. Essentially, you can have a cabinet in a corner that opens from both sides.
We'd love to discuss these and other options with you. Feel free to drop in or call us at Impala Kitchens. We've been solving kitchens space issues for many years and have some inspiring solutions to offer for most kitchen renovations. Let us know if we can help!