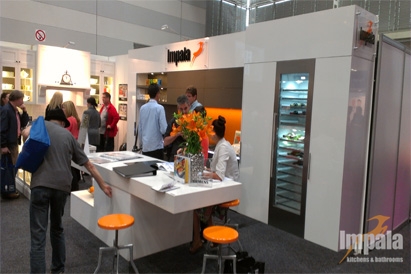 We have just come back from a busy time at Grand Designs at Sydney !!! Firstly thank you to all those who attended our stand (clients and suppliers alike). The feedback was fantastic and our Hamptons style kitchen certainly received much interest. The pressed tin splash back and hand painted doors were a stand out. Our contemporary kitchen displayed the latest colour trend, "Tangelo" and the matching stools were quite revered.
Pictured is the Hamptons style kitchen, a hot trend, with many seeking to create a cosy and warm textured kitchen. Cue crisp neutrals and interesting textures and lines.It's all about the lighting with the TEC LED lighting in our cabinets providing the required ambience.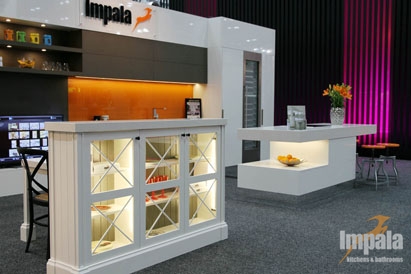 Impala Kitchens and Bathrooms would like to acknowledge the following suppliers who supported us, Caesarstone, Blum, Winning Appliances, Siemens, Marina Isles, Pressed Tin Panels, Laminex Industries and TEC LED Lighting, without your support we would not have been able to put up such a great display.