The kitchen today plays a central role in the spatial footprint of the home requiring fluid motion between zones and multipurpose living.
Surfaces & Spaces
Surfaces must be durable with multiple functions and are chosen to accommodate preparation, dining, homework and entertaining. For this reason, butlers pantries and mudrooms are popular as they keep the kitchen neat and tidy for living and social gatherings.
More like Furniture
Handle free opening is still a strong design choice as kitchens are often more like furniture in an open plan room.
Integration of appliances is still gaining in popularity as the kitchen sits within other rooms.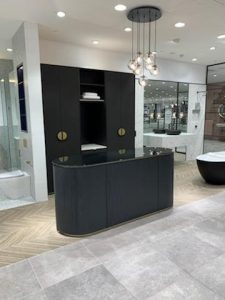 The new aesthetic is of raw elegance and warm tonality and texture is a strong design element, notably with fine groove detailing and curves reminiscent of art deco and mid-century design.
Materials
Luxurious blends of natural & sophisticated materials like marble, quartz, glass, bronze, raw metals and beautiful wood are trending with an emphasis on the originality and beauty of natural surfaces even if they are in fact man-made.
Large scale porcelain sheets bring these elements to kitchen design in the form of benchtops, splashbacks and cabinetry finishes.

Cabinetry
Visually lightening top cabinets or leaving them out altogether has grown in popularity with the use of storage from floor to ceiling carrying the load of pantry and crockery storage. The use of drawers will never go out of style for it's superior access and organisational capacity and open shelves as a feature allow for the careful curation of the kitchen to express individuality and personalisation.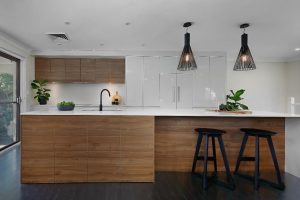 The White Kitchen
Although white will always be a popular choice in the kitchen, as it brightens & lightens a space, it often has added accents in colour, timber and natural materials to lift it from the ordinary.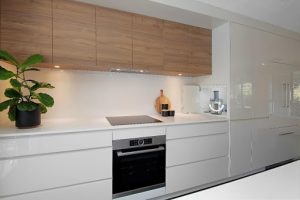 Colour!
We are seeing fully coloured kitchens from pastel tints in pink and blue with green a standout favourite. From muted greens, the blue greens of lakes and oceans through to the green of emeralds and the forest which reconnect us with the natural world.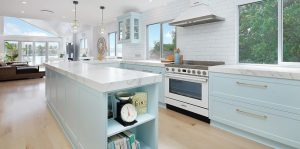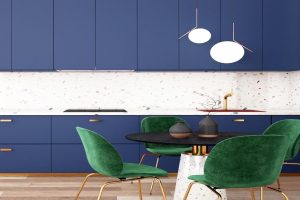 Blue is a perennial favourite especially in modern Hamptons style making it's way into whole kitchens and feature island benches.
Added Drama!
Dark kitchens still bring a sense of the dramatic with black, charcoal, indigo and navy gaining in popularity. Long a favourite for designers and architects everyday people aren't afraid to jump on this popular trend.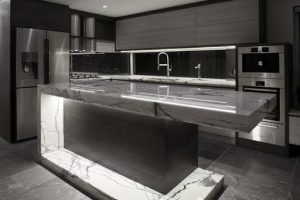 Neutral Palette
As home has literally become a retreat from the world outside, the natural world is a strong influence for colour with neutrals from biscuit, latte and shades of terracotta introducing a warm inviting feel to our inner sanctums.