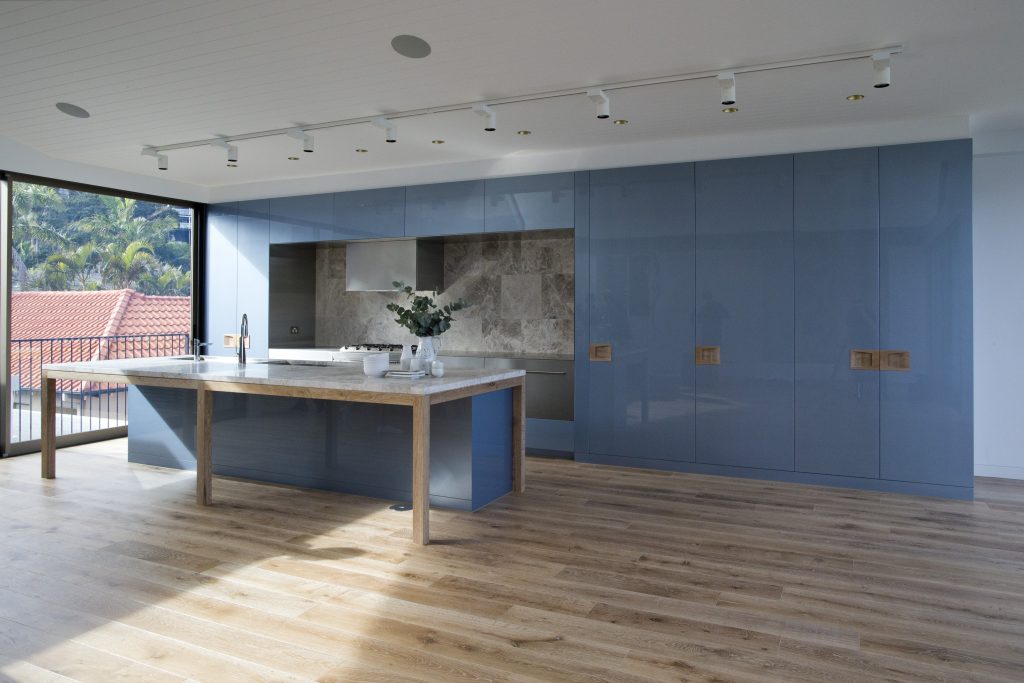 Impala's client was building a new home in one of Sydney's waterfront suburbs. The client commissioned Jackson Teece to design joinery throughout the house, including the kitchen, laundry, vanities, study, bedrooms and wardrobes. Impala built and installed the joinery on this project. The surroundings were a big influence on the colour scheme and materials used throughout the home, with the home owners favouring colours reflecting the water and organic timber veneers with natural stone.
Kitchen features to note:
The kitchen colour was important, it had to reflect the client's love of the water and be in harmony with the room's outlook.
The client wanted appliances concealed where possible. To this end the fridge was fully concealed and all appliances are from obvious view.
The cooking area is clad in stainless steel to reflect the utilitarian purpose of this space. The entire surround is sheeted in thin steel, to avoid the bulky stainless steel tops which are often seen in commercial kitchens. The idea was to impart purpose without detracting from the overall look of the kitchen.
The timber used to support the island was uplifted from the floorboards. The client wanted to keep the same species and batch of timber to maintain a fluid flow in the open plan room.
The inset timber handles were custom made by Impala also with timber matching that in the room.
The stone benchtop was chosen for its subtle and organic colour, reflecting the room's natural outlook and the tiled splashback is from the same stone.